This page has general information about various aspects of the Hurco mill. These may be good as a reference or just to see what a Hurco is about.
Improvements (5/22/2011)
Since getting the mill up and running I've been making a few parts for Western Maryland #6. I've also been making small incremental improvements to the Hurco along the way. I have repainted most of the cabinet which makes it look a good bit better. I've also installed way protectors for the bed and have installed and tested nozzles for the flood cooling system. The most recent update was to replace the spindle drive belt. I was seeing increasing amounts of black belt dust coming out of the vents and it was generating quite a bit of heat. A closer inspection revealed that the drive belt was badly worn. I suspect this was from rust that had accumulated on the sheave plates of the pulleys during its long period of non-use and storage. I haven't put it back together yet as I am waiting on some parts to arrive. I've polished the pulley plates nice and bright and smooth so it shouldn't tear up the new belt. I hope to have it back together by the end of the week.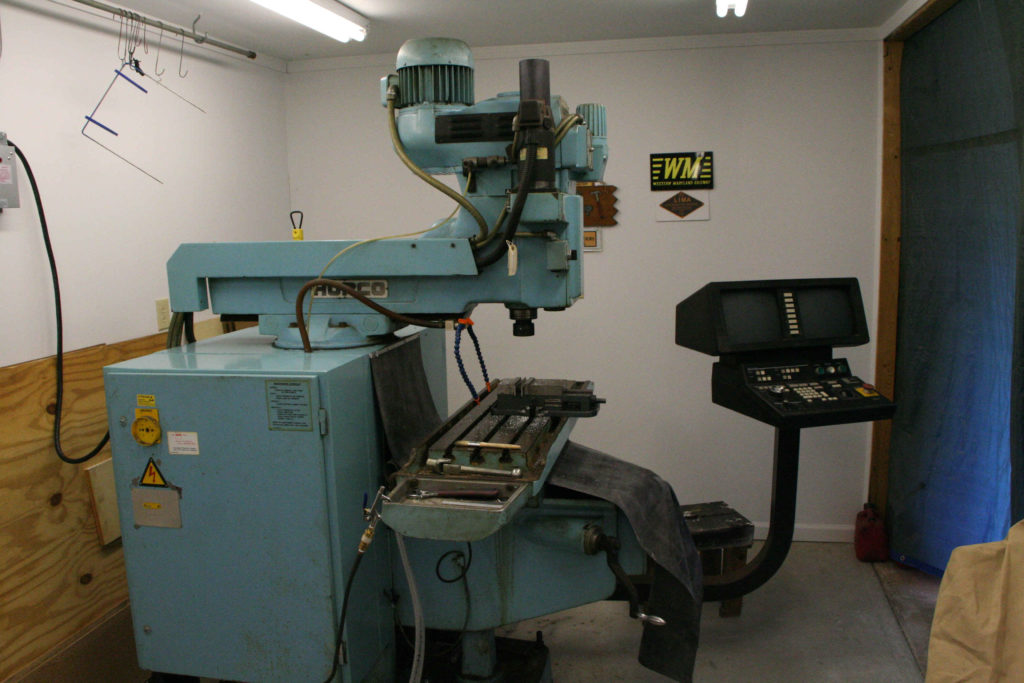 Vari-drive Overhaul Completed (5/27/2011)
I finally got all the parts and finished putting it all back together. Like most things, it took a little longer than I thought it would and cost a little more as well. In the end, though, it was worth it. It runs so much smoother and quieter than it did. If you like to read more of the details, check out my post on The Hurco Store at: http://hurcostore.com/forum/index.php/topic,564.0.html Now I have to get back to making WM #6 parts!
Various Pictures – 2014-2015
The following are various pictures of parts of the Hurco taken while doing diagnostics or other work on it.
Y-axis control fails – 01/25/2020
It was only a matter of time. I had to replace the Z-axis servo control when I got the machine. The Z-axis would not move. Then the X-axis control failed and was replaced. Now, the Y-axis control has failed. I get a motion error whenever I try to manually move the bed in the Y-axis. Fortunately, the servo controls that my Hurco has are MAX-400 units that I can still find on eBay (used). I bought one but, upon installation, it was found to be defective as well. The seller I got it from replaced it and that one worked fine. He also had another one ready to ship me if the replacement failed. I made a deal with him to purchase the last one he had. I tested it and it works so now I have a spare in-house in case something goes wrong again.